Risk Management Outsourcing / Delegation
According to Art. 46 para. 2 lit. a AIFMG, risk management may be
outsourced
(delegated) to
SynoFin as a risk manager licensed according to AIFMG.
Art. 67 AIFMG/Art. 22 UCITSG also provides the possibility of outsourcing risk management for one or more funds to companies that are not licensed for asset management. In Liechtenstein, you will find an overview of "licensed risk management companies" for this purpose.
Their remaining task in the context of outsourcing controlling is to review, monitor and control the provision of services from a technical point of view and to check compliance with the agreed performance and quality standards as well as the continued existence of the requirements of Art. 77 of the Delegated Regulation (EU) No. 231/2013.
Essential components of the outsourcing control form are:
Introduction
Content of outsourcing control

Communication and responsibilities

Requirements for outsourcing

Objective reasons for outsourcing

Limits of outsourcing

Requirements for the outsourcing company

Further requirements

Escalation procedure

Reporting

Outsourcing the risk management of your company guarantees you
Cost benefits
Quality
Time
Compliance.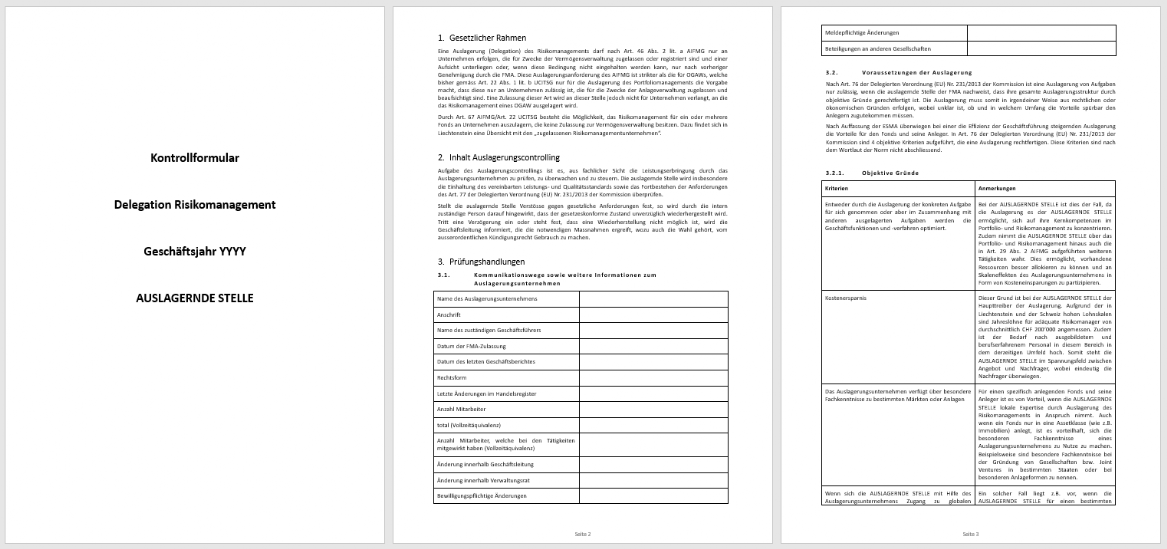 Are you interested or do you have any questions ?
Make an appointment now.